This out and out thoroughbred racing yacht has been set up to provide the beginner, intermediate and corporate sailor the opportunity to learn to sail this yacht from experts. Perfect for racing or corporate days, she comes with a professional crew to instruct and demonstrate specific techniques.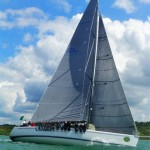 She is also offered for Solent cruises or for the more adventurous a round-the-island day if winds and tides allow. She has participated in many offshore races, including the famous Fastnet race, as well as Round the Island and Cowes Week.
The deck layout is primarily designed for racing. Twin wheels and two grinder pedestals give good central cockpit space and a clean-looking, workable layout. Cockpit sides are inboard at the forward end of the cockpit and a half-height bridge deck gives way to more space below to accommodate the interior, without compromising cockpit use. The yacht has an extensive sail wardrobe, which is constantly being upgraded.
She sails with a crew of up to 16 people and as she is skippered, they can come with any level of experience.
Please contact us for further details and a full specification