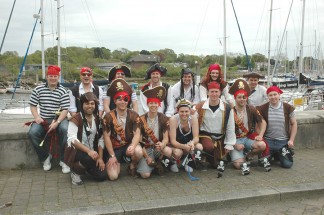 Pirates on the Solent! What a wonderful day – the guys dressed up in their kit and the stag himself looked delectable, although a bit cold.
They chartered both our Sigma 38 yachts, Flying Formula and Flying Banana as their pirate ships for the day. A lovely mornings beating up towards The Needles, was followed by rumbly tums, so they set sail for lunch at Beaulieu. A friendly race ensued to see who could get there first, the losers bought the beers!
After lunch, the stag was ordered up the mast to check for any rival pirate ships. Fortunately the coast was clear and one group who were up for serious sailing set off on Flying Banana while the rest who wanted to put their feet up, stayed on Flying Formula. We headed from Beaulieu across to Cowes where they departed for an evenings revelry and with smiles on their faces.